b2b Matchmaking
The #1 Value Add You Must Offer Event Participants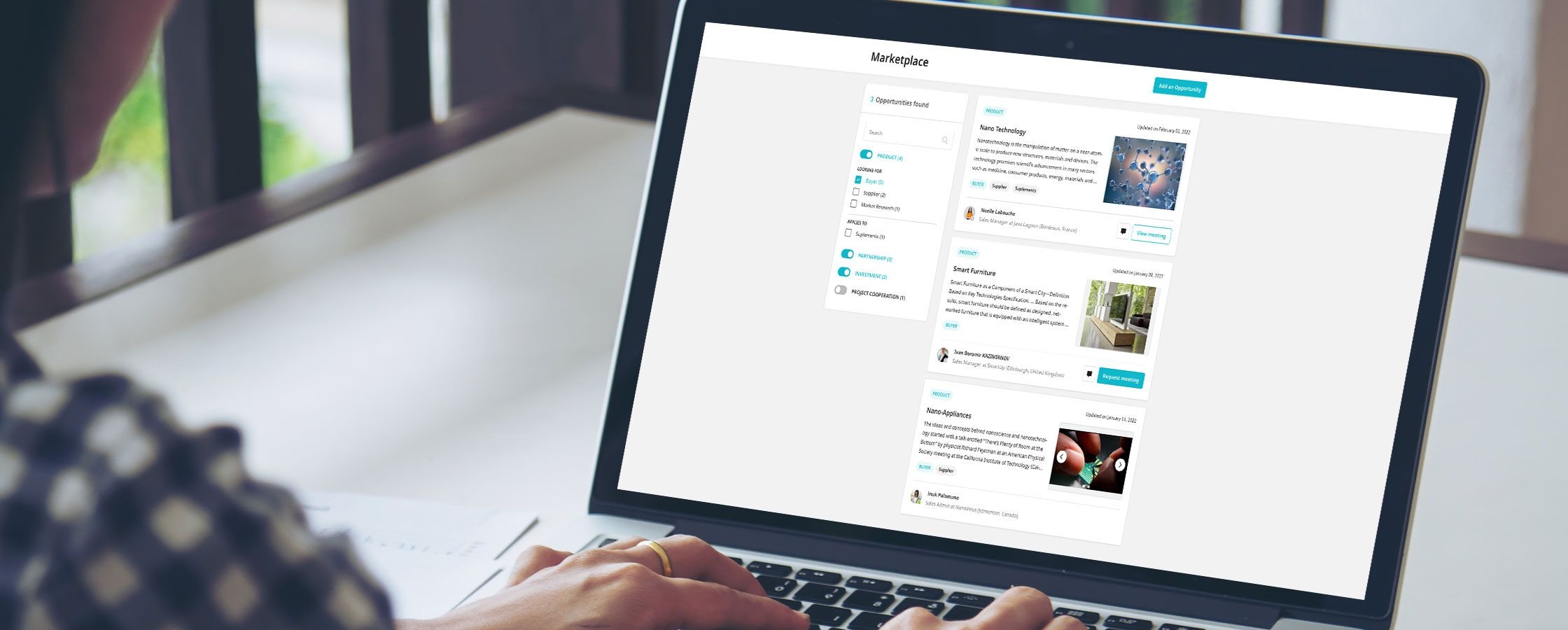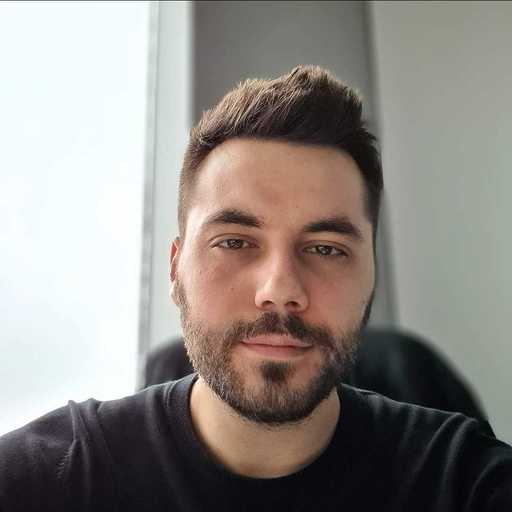 Grgur Tustonjic
Mar 3, 20223 min read
On any type of b2b event, whether the focus is on virtual, hybrid or in-person event networking, rich participant profiles are a crucial factor for increasing the number of meetings. The more information they show, the more likely they are to pique the interest of other participants. However, it is important to present this information in a clear and organized way. This is what inspired b2match, the event matchmaking software, to create the Marketplace back in 2017.
Since then, it has evolved into one of the most useful tools you can use to take your event to the next level.
An Essential Component of Participant Profiles
The Marketplace is a feature that allows your participants to upload their own content in the form of what we call Marketplace opportunities. These opportunities are then displayed on the Marketplace page, the participant's profile, and/or the company profile. A standard Marketplace opportunity consists of:
Title
Description
Classifiers
Images
Embedded videos
Files 
Its structure provides a lot of options for the participants, making it easier for them to showcase what they offer. Marketplace opportunities can be seen as an extension of their profiles and provide an added value to your event. This is especially the case for events with a large number of participants. The Marketplace provides them the opportunity to stand out and increase their visibility.
The custom classifiers play an important role in such big events. In the organizer's tool, you can choose which categories of opportunities the participants can upload. 
These represent the first level of categorization. Additionally, you can define another group of classifiers, which provide more details. Participants can select more than one classifier and efficiently categorize their opportunities.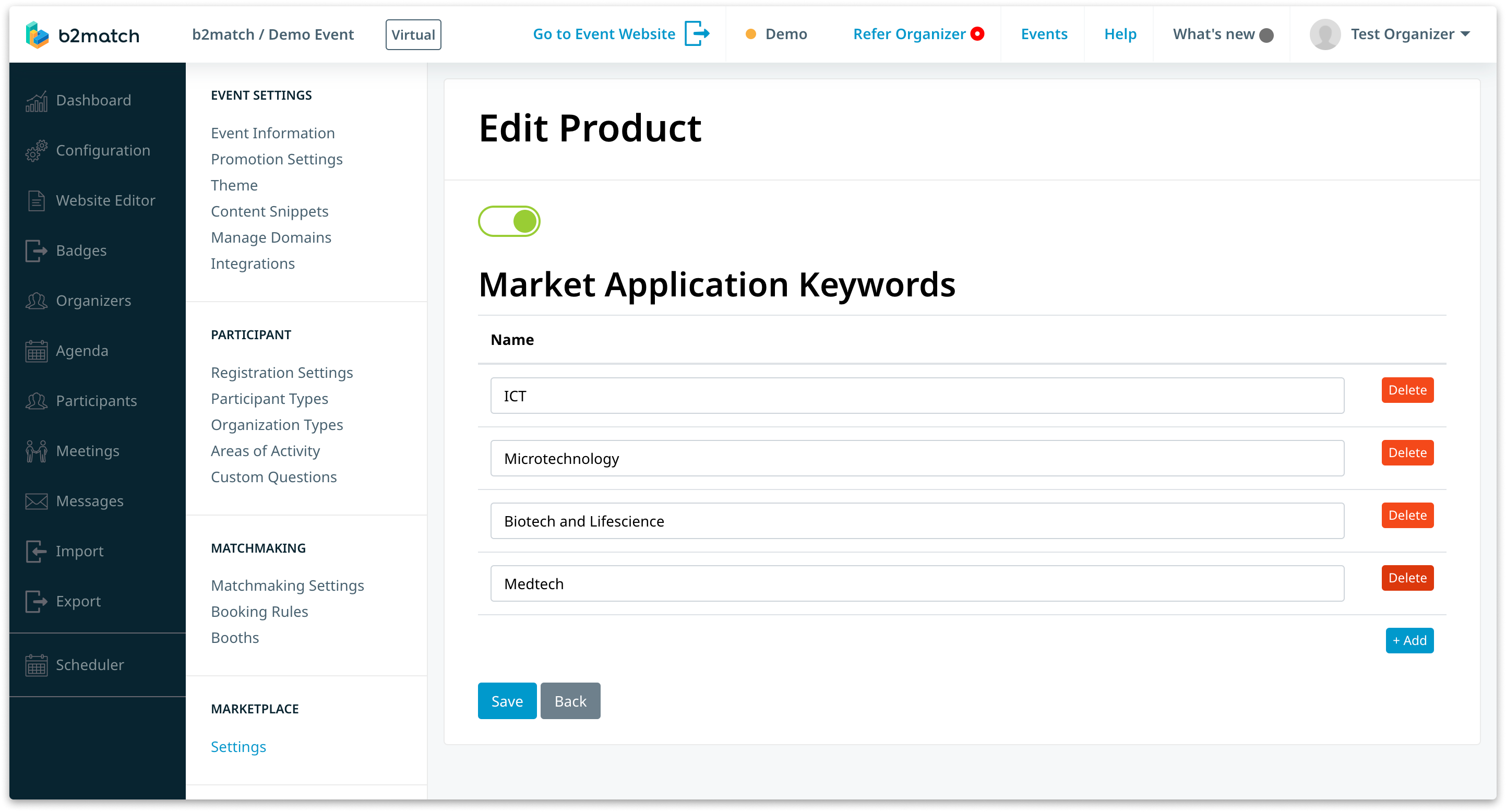 The real value of these classifiers lies in the fact that participants can use them to easily filter the Marketplace. It allows them to quickly find interesting opportunities without scrolling through a list of hundreds of items.
For participants who know exactly what they are looking for, there's the built-in smart search functionality.
What's in a Name? 
b2match allows you to create a wide array of networking events, such as trade shows, hosted buyer program, startup investor events, career fairs, etc. Based on what the event is about, the Marketplace can be renamed so that it fits the brief. That is one of the biggest underlying powers of the Marketplace, it can be whatever you need it to be. 
The University of Applied Sciences Technikum Wien used the Marketplace for their job fair event Digitale Firmenmesse. Companies posted job ads and the candidates could easily request a meeting with them, or send them a CV.
Hong Kong Trade Development Council created a place on their event AFF Deal Flow Matchmaking Session 2022 where global investors and project owners can connect and unlock various business opportunities.
Custom Developments of the Marketplace
In addition to renaming the Marketplace, b2match also offers custom development to make sure your Marketplace completely reflects the needs of your event participants.
ACCIÓ - Agency for Business Competitiveness needed more categories of classifiers for their Catalonia Open Challenges platform. For example, their "Public Procurement" opportunity type has five categories of classifiers:
Field of Application
Type
Status
Technology
Looking for
This provides their participants a wider range of filters, allowing them to find relevant opportunities in just a few clicks.
Furthermore, Interreg Central Europe's Applicant Event Community Platform was brought to a whole new level thanks to a customized Marketplace. Their applicants were able to share their project ideas, find potential partners and receive consultations from Interreg's experts.
Virtual and Hybrid Trade Shows and Exhibitions
Since we're still dealing with the uncertainty that goes along with the global pandemic, more and more event organizers turn to virtual exhibitions. They need a way for their exhibitors to showcase their products and services and recreate the physical booth usually found on on-site exhibitions and trade shows.
With b2match, you can allow only exhibitors to create Marketplace opportunities, making a clear distinction between them and regular event attendees. This way, exhibitors can stand out and get more investors or leads.
Seeing how virtual events usually get more participants, they can reach a much larger audience 24/7. Therefore, the Marketplace represents the perfect opportunity for your exhibitors to maximize their presence on the event and increase their ROI.
Inspired? Get in Touch and Let Us Help Make Your Next Event a Success.
Contact Sales
---
Related articles
b2b Matchmaking

The art of making connections is a cornerstone of success for many startups. In an increasingly connected business world, who you know can often be just as important as what you know. The essence of this concept is deeply ingrained in the heart of b2match, an innovative platform that empowers startu

b2match

Sep 21, 20234 min read

b2b Matchmaking

As startup landscapes continue to burgeon globally, startup investor events have emerged as crucial networking platforms. They connect startups with potential investors, mentors, industry professionals, and customers. One game-changer has been the incorporation of virtual networking experiences into

b2match

Sep 21, 20235 min read

b2b Matchmaking

The heart of any successful startup investor event lies not just in the transactions made, but in the communities built. More than funding and exposure, these events present a unique opportunity to foster a strong, engaged community that transcends beyond the event itself. A community that nurtures

b2match

Sep 13, 20233 min read