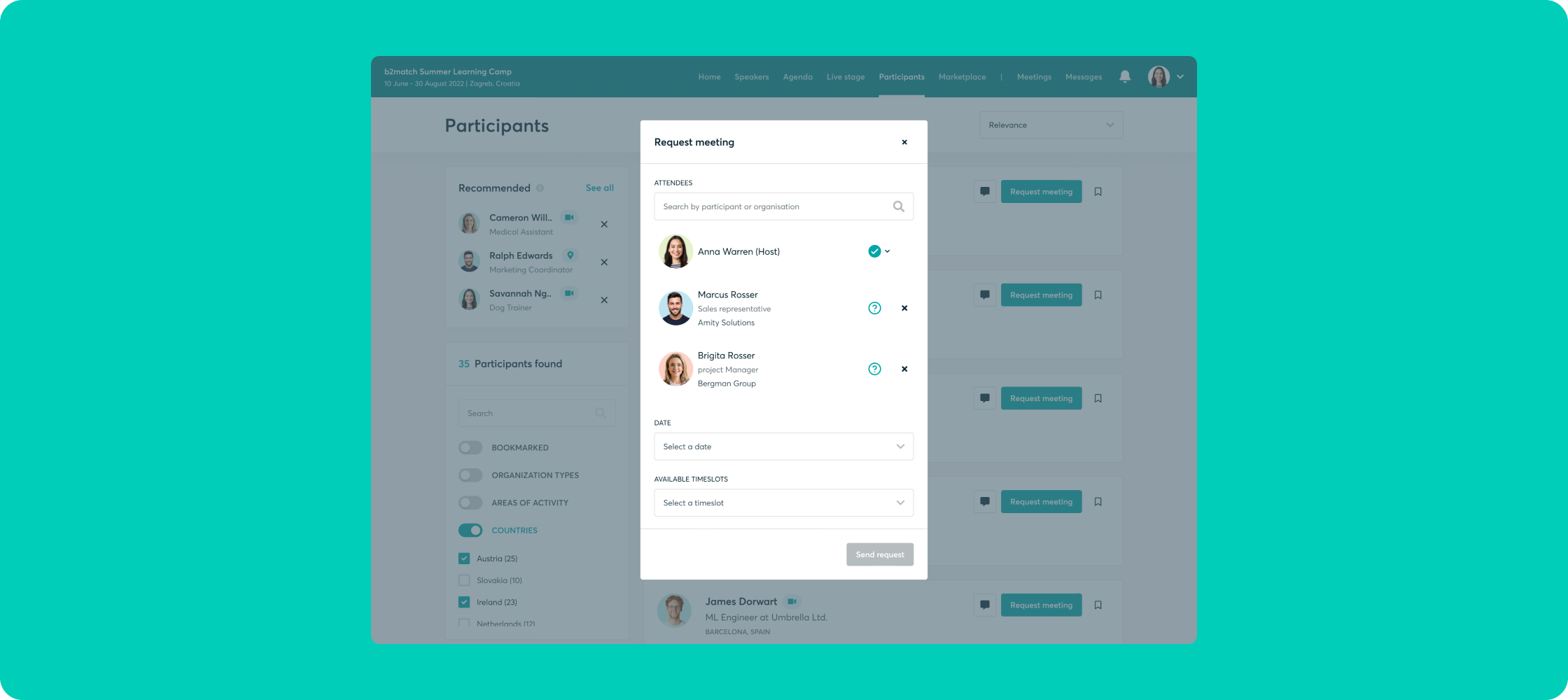 Product Update
Group Meetings for the Ultimate Event Networking Experience
Sep 6, 20221 min read
b2match has long been a powerful event matchmaking software for connecting participants and creating business opportunities. But what if you're organizing a networking event where participants need to manage group meetings? Well, the answer is finally here!
Today, we are beyond proud and excited to annouce our newest feature - Group Meetings. Participants participating in virtual event networking can now create and edit meetings for groups of people, making it more flexible and convenient for everyone involved.
Event Matchmaking Brought to a New Level
More and more networking events feature company representatives who have meetings with other companies. Thanks to your valuable feedback, we have realized that the existing one-on-one meetings format needs improvement.
With the Group Meetings, creating and managing meetings is now easier than ever for your participants. They can simply request a meeting and add more participants to it. They can add people from their own company, or any other participant available for meetings.
Each added participant will receive a notification and they can indicate their presence. Plus, our flexible scheduling options make it very easy to adjust meeting times if needed.
New and Improved Meetings Page
We've also redesigned the meeting schedule to reflect the new changes. The meeting card shows all the participants who have been invited to the meeting.
Additionally, each participant has a symbol next to their name that indicates whether they accepted the meeting, declined the invitation, or if they haven't responded yet.
The meeting card has been decluttered, with all the secondary actions grouped within a dropdown menu. Now, only the most important button for each meeting is displayed.
This feature has been long in the making, so we really hope you and your participants enjoy it. Make sure to stay up to date and keep an eye on our Product News to find out when Group Meetings will be available for in-person and hybrid event networking!
Inspired? Get in Touch and Let Us Help Make Your Next Event a Success.
Contact Sales