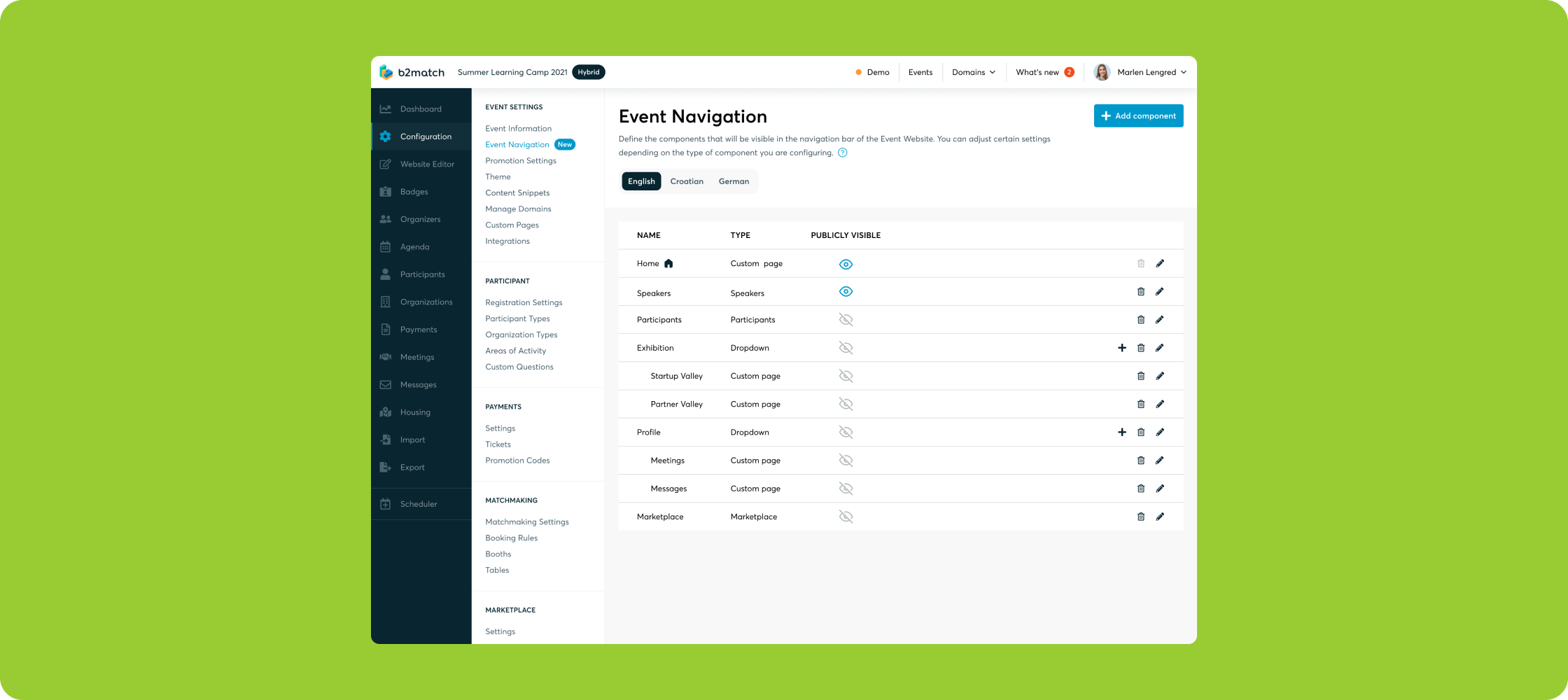 Product Update
Fully Editable Event Navigation for Maximum Customization
Mar 22, 20222 min read
For a long time, our event websites followed the well-known structure: Home - Participants - Marketplace - Agenda. However, with the release of many new features, we have recognized the need for a more customizable event navigation in our event matchmaking software.
How To Structure Your Event Website
The Event Navigation allows you to completely change the structure of your event website's navigation bar. This way, we have made a huge leap towards customizing an event website.
You are now able to:
rename existing components
reorder them
create dropdown menus
add new components
configure the content and visibility of the components
Explore the Advantages of a Fully Customized Event Website
Sure, reordering and renaming event components sounds useful. But, what does that really mean for event organizers and participants? Well, it means that you can now use the existing b2match features in a whole other way and create so many different events!
For example, you can now use the Marketplace and adjust it to reflect the needs of your event perfectly, while offering your participants additional value. In need of a virtual job fair software? Use the Marketplace as a Job Board. For innovation platforms? Rename the Marketplace to Project Ideas. The possibilities are endless!
You can also create filtered participant or company lists, segmenting your attendees even more effectively and highlighting prominent sponsors or exhibitors. This is one of the crucial things for successful buyer - seller events.
Then, you can customize the visibility of each component in case you need to hide some pages from certain participant groups, or website visitors.
And last, but not least, you no longer need to contact b2match Customer Support to add Live Stage, Sponsors, or Contact pages. The power is in your hands now!
Understand the Potential
This new feature is a major change not just for the b2match of today, but also for the b2match of the future. The Event Navigation will only get more powerful and flexible, so make sure to check out how it works and feel free to get creative with your next networking event!
Inspired? Get in Touch and Let Us Help Make Your Next Event a Success.
Book a Free Demo