Event Management Tips
The #1 Crucial Element to Organizing a Successful Career Fair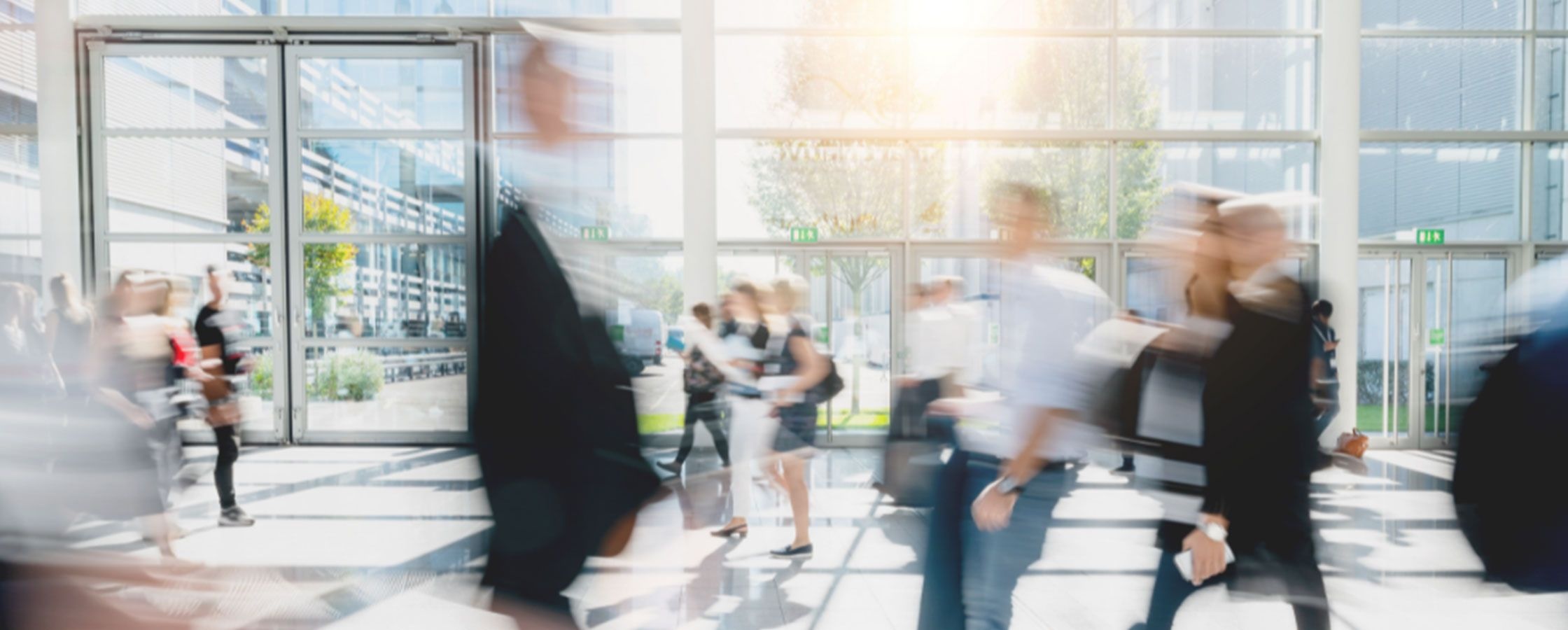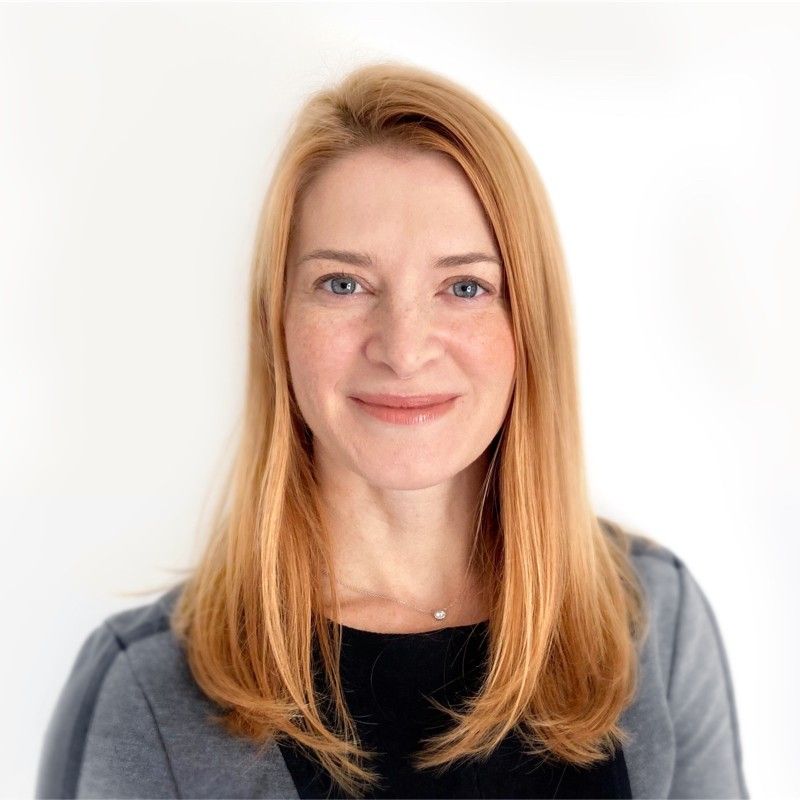 Britta Pichler
Aug 2, 20215 min read
The core of any career fair is networking. Universities want to build their network with top organizations, and companies want to fill their talent gap now and in the future.
To make the networking part of your career fair successful, you want the best matches between job seeker and recruiter to be made during your event. After your event, you want to be able to measure the amount and quality of interviews that took place and promote your event's reputation for the future.
How? With b2match, the career fair software that specializes in networking for in-person, hybrid and virtual career fairs.
Experience Career Fair Demo Now
3. Detailed and Searchable Job Boards
5. Smart Search Function for Optimized and Efficient Meetings
7. Post Career Fair Success Measured
Career Fair Technology Specialized in 1:1 Networking
An all in one event management software allows you to organize your entire job fair in one place, making the planning process as seamless as possible.
Okay great, that's pretty standard.
But. To make the networking during your career fair effective, you need to offer job seekers and recruiters technology that specializes in networking. Why? It matches your attendees according to skills, offers, and goals to help them find the golden needle in the haystack of career fairs and recruiting.
So what does that look like? Here it is, step-by-step.
1. Career fair registration
A customizable registration process allows you to configure the registration by participant type. The ability to group participants by a specific type gives the organizer the power to perform certain actions and apply certain rules. For example booking rules, visibility rules, registration rules.
This allows participants to find suitable partners by giving them an effective way to filter by participant type within the career fair event platform.
When you set participant types, this will be the first thing that attendees will have to select during the registration process after entering their email and password.
The next important registration step to creating a job fair with targeted networking is having participants answer customized registration questions created by the event organizer.
The answers to these questions can then be filtered by attendees when searching for their ideal match. This makes for extremely efficient interview matchmaking.
2. Keyword-centric career fair profiles
Once your participants have gone through the easy and fast registration process, it's time for them to create profiles. Attendees can add photos, videos, portfolios and files, like their curriculum vitae (CV) to display their talent. The customized registration question answers are searchable in the profiles by other participants.
Explore The Participant Journey Here Now
3. Detailed and searchable career fair job board
Recruiters create job board entries where they list detailed offers and requests. They support it with photos, videos and files attached. The sky's the limit here. It's a great time for recruiters to get creative and show what they have to offer.
4. Career fair booths and hosted sessions
To optimize your recruiters experience at your job fair, offer them different ways to promote themselves. As stated earlier, the recruiter creates detailed job board entries during the registration process. They also create career fair booths within the platform.
Now, add one more very important promotional push for your recruiters. A hosted session.
Hosted sessions are brilliant for both the event organizers and recruiters. A hosted session is where recruiters have the opportunity to elaborate on their opportunities.
Organizers incorporate it into the career fair agenda.
The biggest advantages of hosted sessions are:
They are excellent ad space and make the recruiter stand out from the crowd.
The recruiter can see who signed up for their hosted session.
After the event, the organizer can gather data of who actually attended which hosted session and send contact details to the recruiter.
This kind of extra service is great for event organizers because it can be either a value add to attend your event, or it can be a potential source of revenue for the event organizer.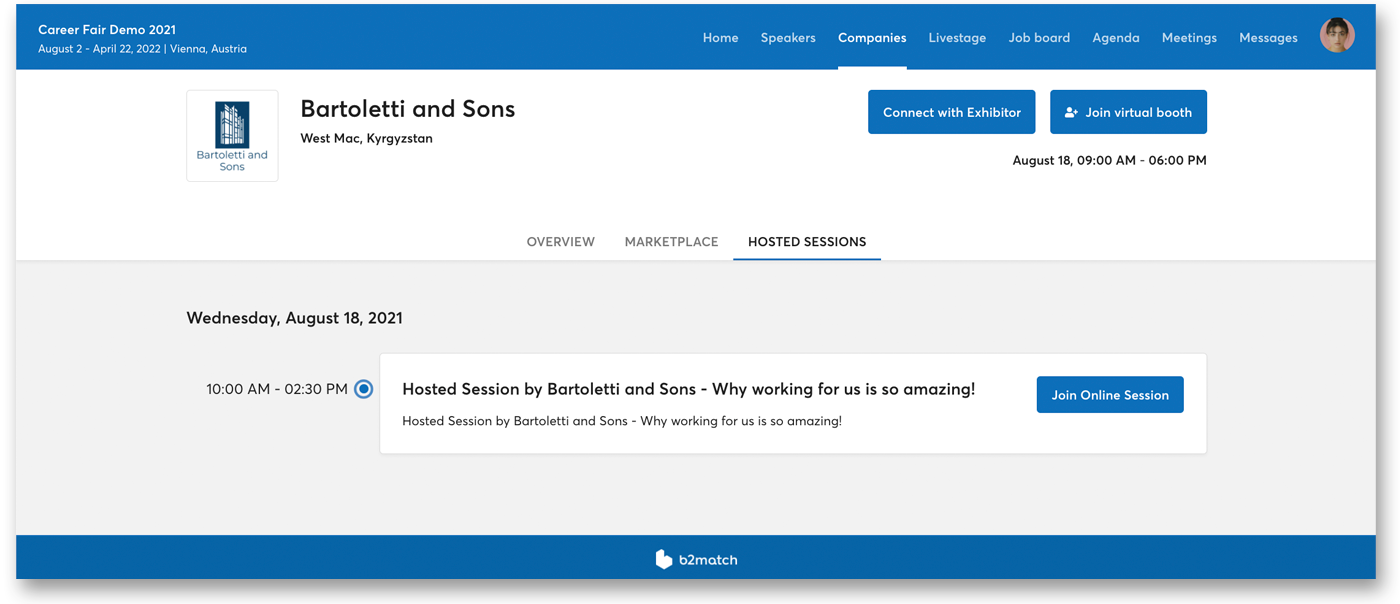 5. Smart search function for optimized and efficient interviews
Now, with the help of a customizable registration process, in-depth job seeker profiles, and detailed recruiter job board entries, a smart search functionality is set up to populate your event attendees best matches.
Before your job fair even begins:
Job seekers and recruiters log into the career fair event platform.
They use the smart search function and keywords to find their best matches.
Meeting and interview invitations are sent out.
Event participants review the profile and/or job board ad before accepting the interview requests. Scheduling meetings with a single click easy as a pie.
This facilitates goal-oriented networking.
6. Personalized career fair event agenda
Job fairs are busy days for attendees. Therefore a generated personalized agenda is ideal for your participants. It tracks the keynotes, webinars, hosted sessions, meetings and interviews they sign up for. It helps them track where they need to be and when.
7. Post career fair success measured
No matter if you're organizing virtual, in-person or hybrid event networking, it's vital to gather data and analyse the success of your career fair.
Know how many people actually attended your event.
See how many interviews took place.
Review the success of the interviews. Gather participant ratings ranging from lack of interest between the two parties, all the way to next steps of the interview process was agreed upon.
Use this data to advertise your next job fair and create fantastic marketing campaigns with real numbers to support it.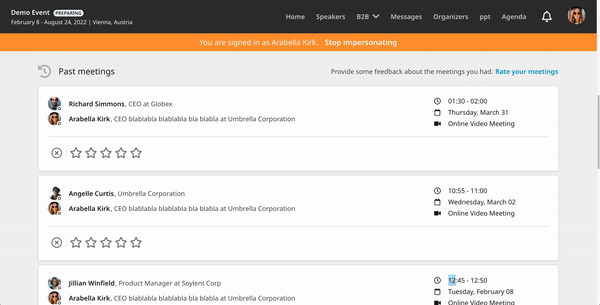 Career Fair Examples
Mentioning physical, hybrid and virtual job fair features is good, but being able to see that they have helped other event organizers is better. Take a look at some successful career fair examples to get inspired.
JOBfair 2022 Online
The JOBfair 2022, hosted by Sant' Anna School of Advanced Studies - Pisa is an annual career fair with the aim of creating a link between the academic world and the job market.
They had 294 participants and 590 one-to-one meetings arranged.
Virtual Austrian IT Career Day 2022
The Virtual Austrian IT Career Day, hosted by the Austrian Economic Chambers (WKO), used b2b matchmaking and the b2match virtual career fair software to connect Austrian companies with Croatian IT talent. Austrian companies presented themselves and got in touch with potential employees. Job seekers reached out to firms that looked interesting.
They had 109 participants and 57 one-to-one meetings arranged.
Firmenmesse
The Firmenmesse, hosted by the University of Applied Sciences Technikum Vienna, had 717 participants and 1,017 one-to-one meetings arranged.
Find out how b2match, the career fair software can help with your next event.
Inspired? Get in Touch and Let Us Help Make Your Next Event a Success.
Contact Sales
---
Related articles
Event Management Tips

Hosting investor events is a crucial component of a startup's journey toward success. These events provide opportunities for entrepreneurs to showcase their ideas, connect with potential investors, and secure funding to fuel their growth. However, organizing a stellar startup investor event requires

b2match

Jul 28, 20233 min read

Event Management Tips

Pitching at startup investor events is an exciting opportunity for entrepreneurs to showcase their ideas, attract funding, and propel their businesses to success. However, navigating the pitching process can feel a bit overwhelming. It requires careful preparation, effective communication, and an un

b2match

Jul 28, 20234 min read

b2b Matchmaking

Event organization is not what it used to be. In an industry that's constantly evolving, staying ahead of the curve requires staying informed about the latest trends and developments. The year 2023 is no exception, introducing fresh and exciting dynamics in the realm of event networking that is set

b2match

Jul 28, 20234 min read