Extend Participant Connection with
Post Event Matchmaking
Give your event attendees what they want most. More opportunities to expand their network and form meaningful connections. Enable flexible matchmaking after the event.
AI Matchmaking
Integrated Video Conferencing
Rich Profiles
Advanced Filtering
Conversations
Marketplace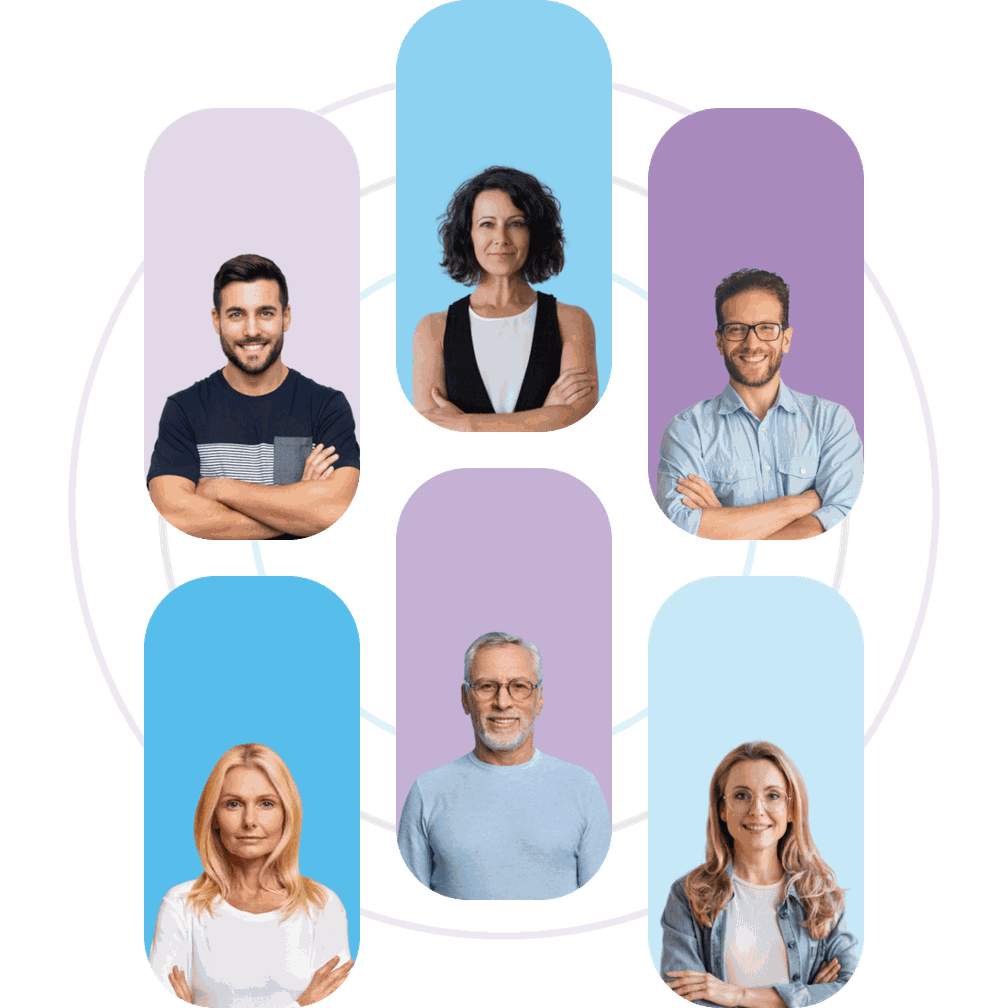 New Business Opportunities Are Possible Even After the Event With an Impressive Matchmaking Solution
Events may end, but networking doesn't. Around 70% of participants log in and browse profiles after the event. Meet their needs by allowing them to send messages and have online meetings with participants they have missed.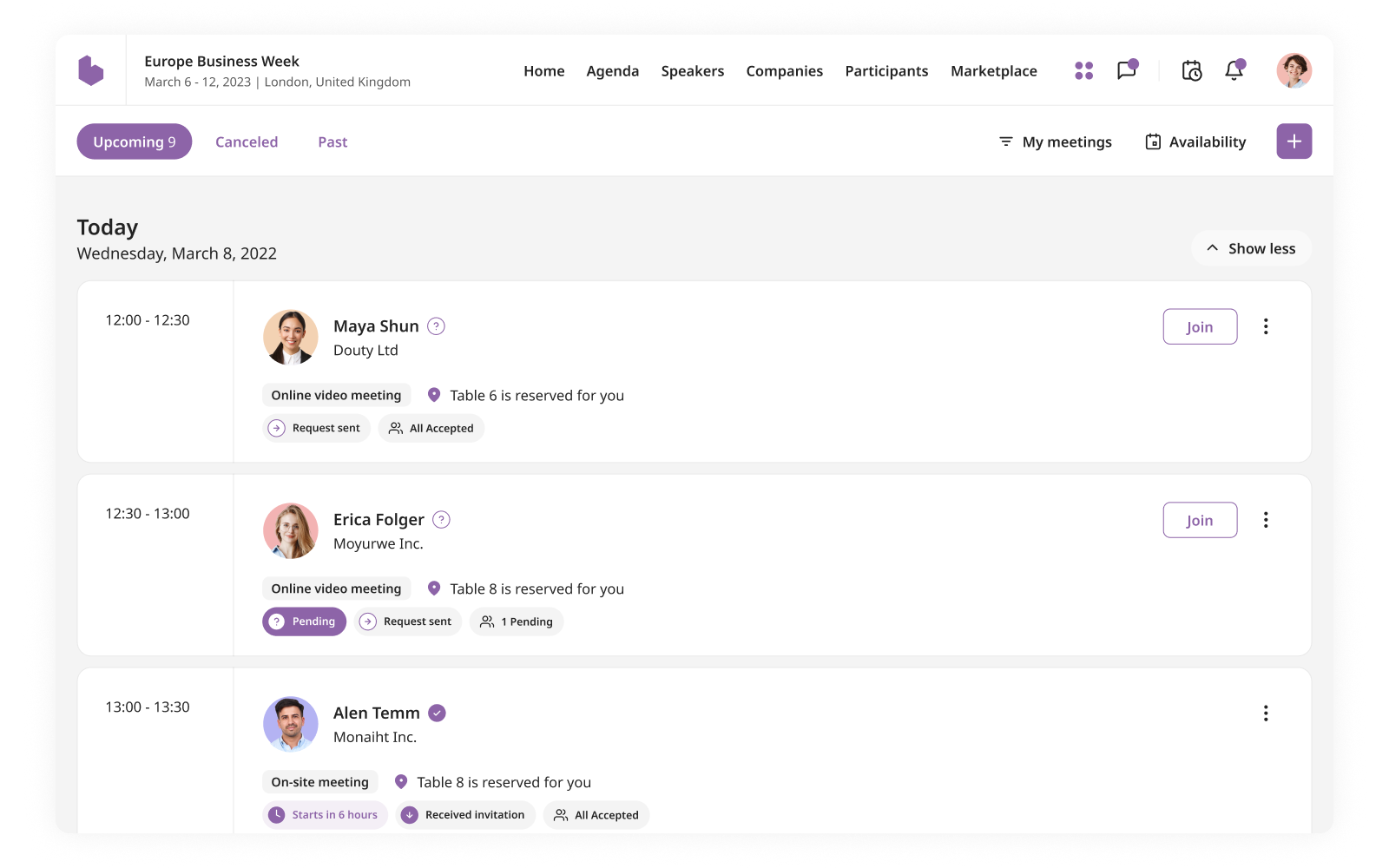 Custom Meeting Date

Participants can have meetings during a predefined time period after the event ends. The built-in calendar provides a simple and intuitive scheduling experience.

Custom Meeting Time

Flexible scheduling allows meetings at any hour of the day. Advanced matchmaking software calculates time differences and suggests suitable meeting times for both participants.

Virtual Meeting

Our integrated video conferencing tool does not require any downloads or installations. Participants easily start their meetings with just one click.
Let's Explore How Matchmaking Works
Learn how our Post Event Matchmaking Solution can bring additional value to your event. Maximize its potential and keep your participants engaged to help them make even more valuable connections.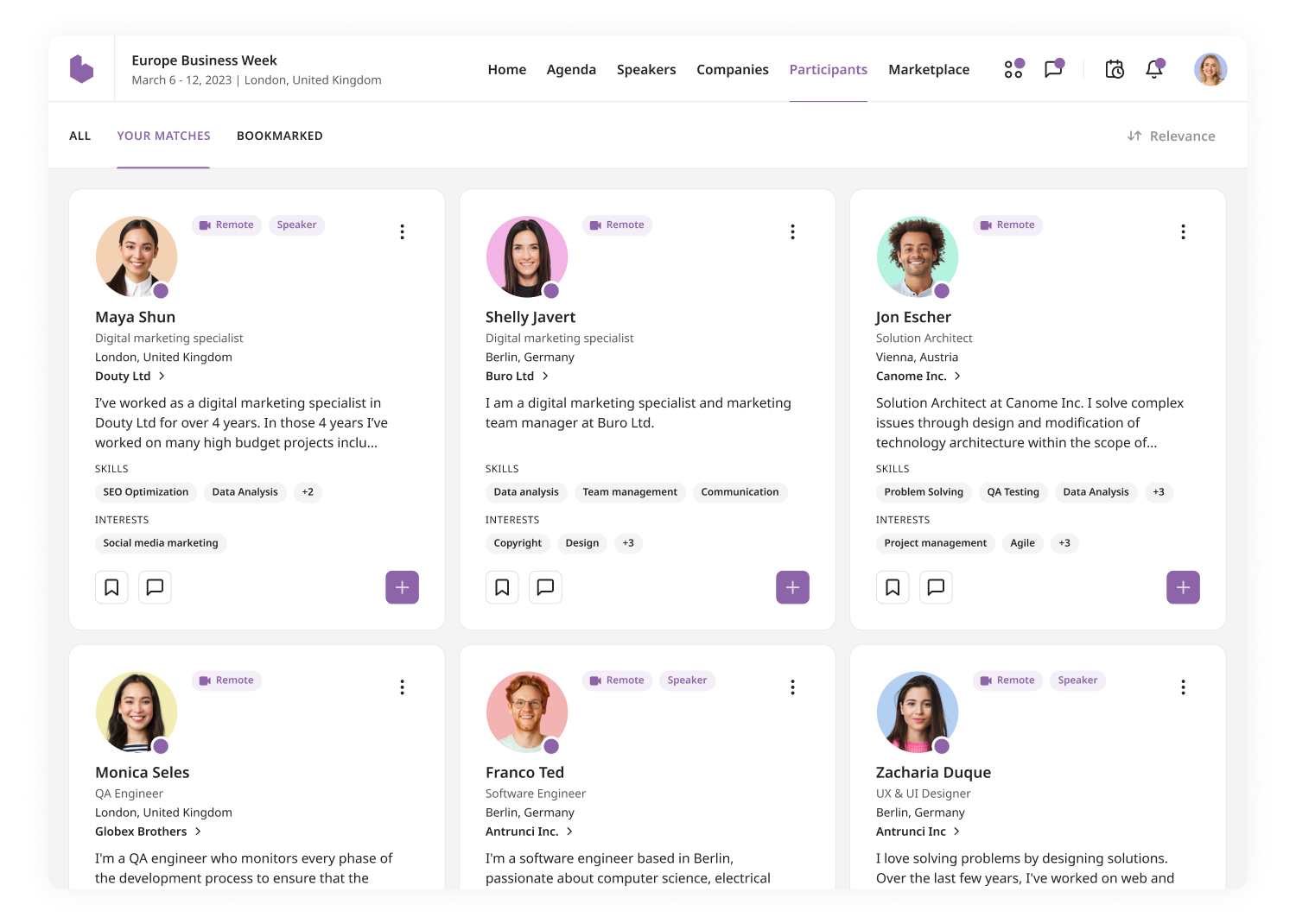 artificial intelligence
Utilize Smart Matchmaking Powered By AI Recommender
Our intelligent recommender system suggests even more interesting profiles after the event. With advanced machine learning algorithm, it analyzes all the data generated by the participants during the event.
Learn More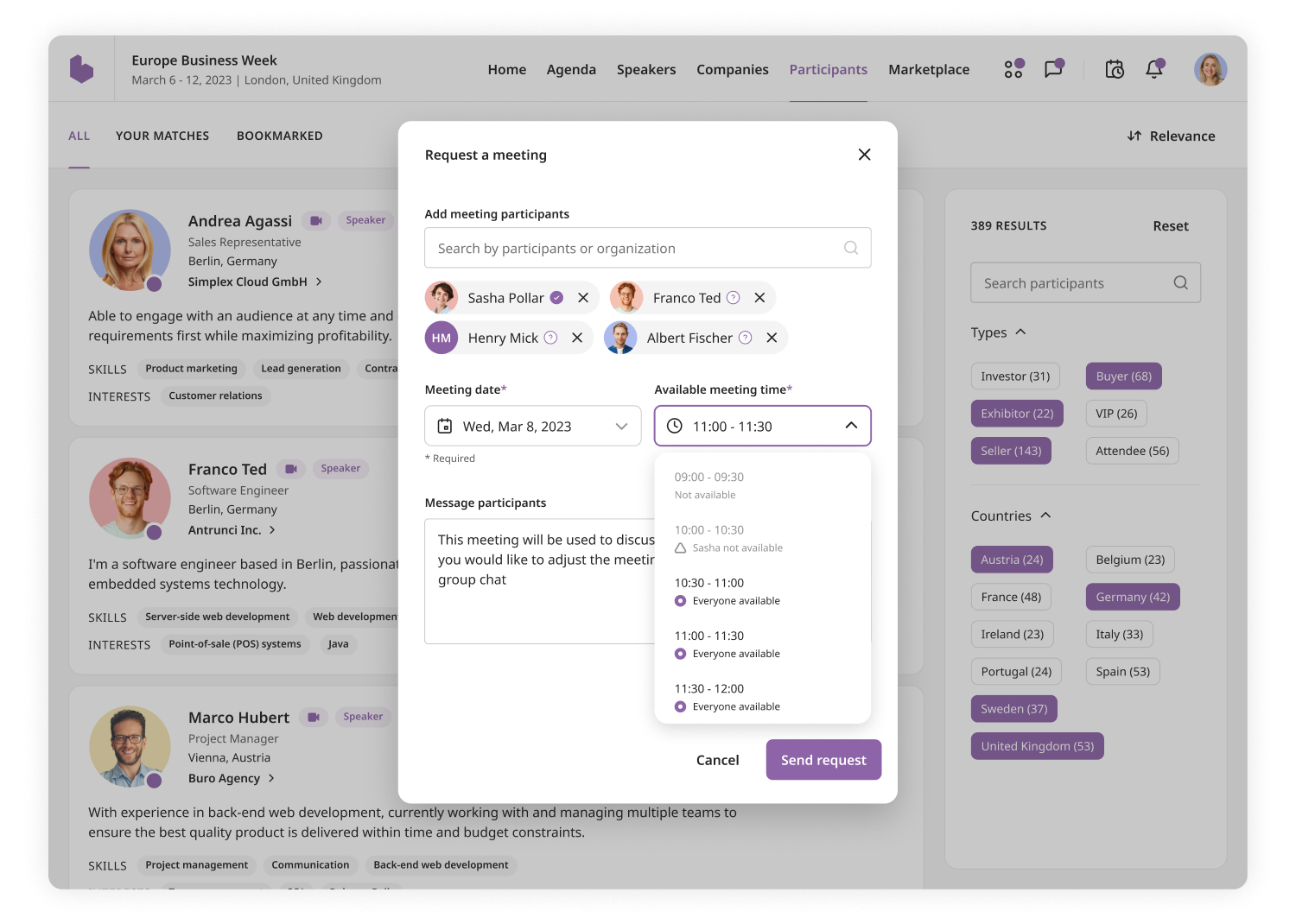 meeting management
Easy-To-Schedule Meetings
Our Post Event Matchmaking offers flexible scheduling options featuring a smart reminder about time zone differences. Participants schedule a meeting by following these easy steps:
Pick the meeting duration
Select the date of the meeting
Choose the time slot for the meeting
Send a message (optional)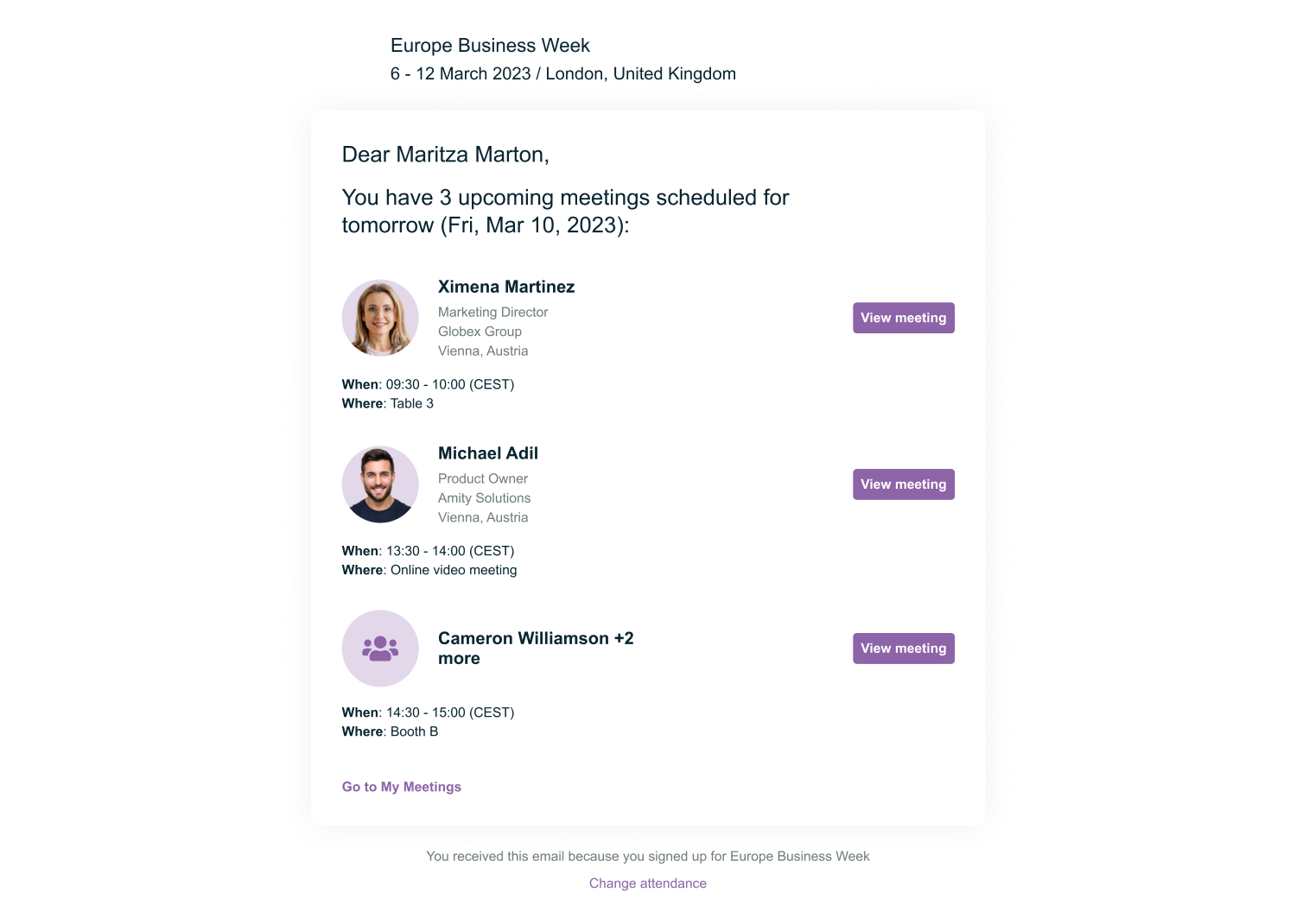 meeting notifications
Upcoming Meetings Email Notification Keeps Participants Up-to-Date
Our platform automatically sends email reminders to participants before the meetings. This ensures that participants do not miss their meetings in case they scheduled them a long time ago.
An email is sent one day before the meetings
Participants see all meeting details including the time, place, and the attendees
A link to the meetings provides quick and easy access
Want to Maximise the Potential of Your Event?
Ask for Post Event Matchmaking now and offer additional value to your participants on your on-site, hybrid, or virtual event.
Book a Free Demo
Knowledge Is Key, We Happily Share It
b2b Matchmaking

Matchmaking is generally used in the context of the dating world, namely to describe how two searching individuals find the perfect partner. Business matchmaking is no different from that. The same approach is used to find the perfect 'business' partner. So, let's clarify what that exactly means.

Jonas Schoeneborn

Oct 21, 20204 min read

b2b Matchmaking

Events are made for people, and people have expectations. Meeting those will result in higher engagement rates and greater satisfaction, driving the success of your virtual event. Attendees expect to build and expand their network at networking events, so the matchmaking that your event is offering

Jonas Schoeneborn

Nov 11, 20203 min read

b2b Matchmaking

The sign of a successful virtual event is when your attendees ask for more. More time, more meetups, more ideas. Organizers have been getting feedback from participants that they would like to manage more meetings after an event, no matter the type - virtual, in-person or hybrid event networking. Ho

Britta Pichler

Jun 16, 20201 min read