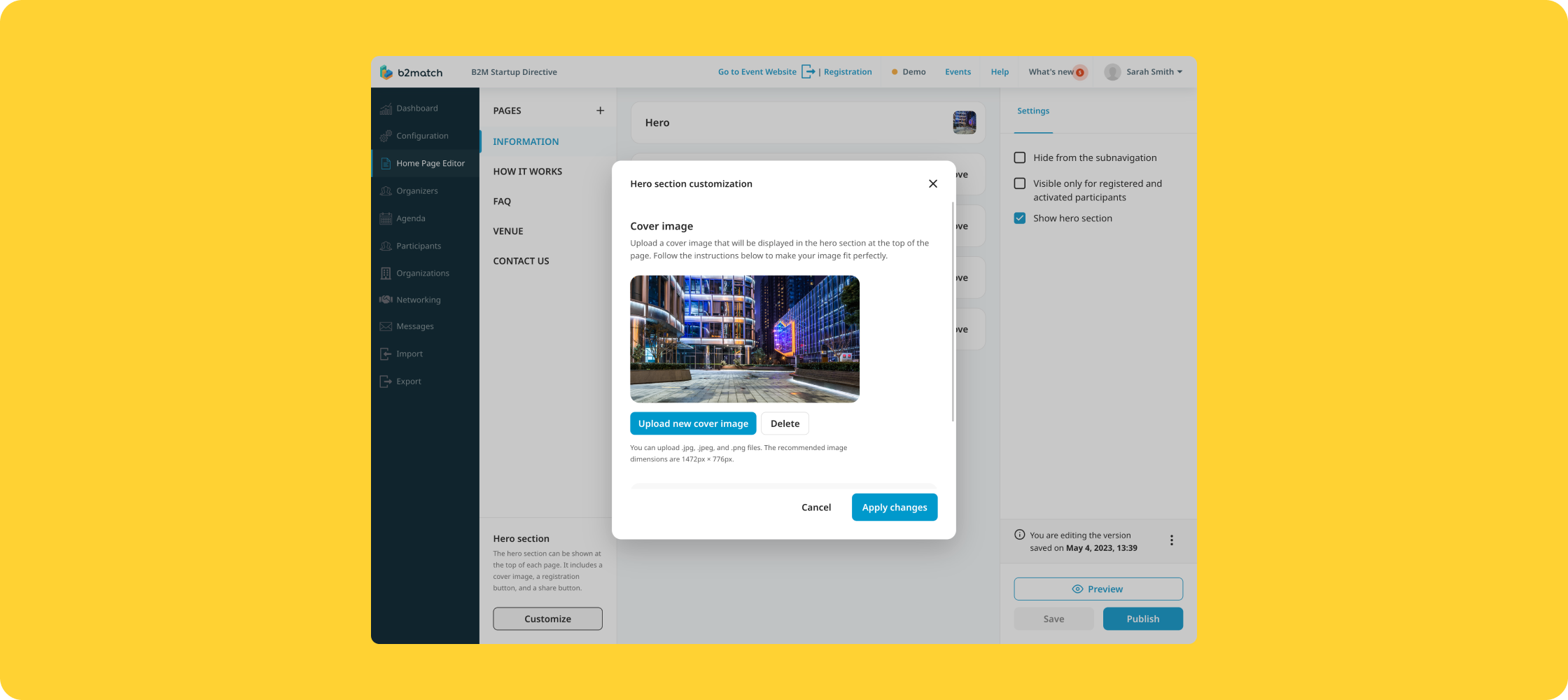 Announcement
b2match next: Create Remarkable Event Landing Pages with our Brand-New Home Page Editor
May 4, 20231 min read
We are proudly presenting to you our brand-new event home page editor - the ultimate tool for creating stunning and effective event landing pages! Say goodbye to boring, cookie-cutter event pages and hello to engaging and interactive designs that will captivate your audience.
With its intuitive and user-friendly interface, this cutting-edge tool puts the power of customization in your hands.
From customizable widgets to multilingual pages, our editor has everything you need to create a professional-grade landing page in minutes. You can add new pages, manage existing ones, and customize page settings. The editor is perfect for building and editing pages content, and it is available for multilingual events, allowing the creation of pages in multiple languages for your event website. Additionally, you can customize the home page hero image by uploading your event banner.
The editor is divided into different sections, each with its unique function, such as the Rich text section, Gallery section, Resources section, Text & Media section, FAQ section, Contacts section, Event in Numbers section, and Participants by Country section.
One of the key features of the Event Home Page Editor is its responsive and accessible design. This means that you can easily add and arrange elements such as images, text, and videos with a simple click of a button and your event page will look great on any device - whether it's a desktop computer, a smartphone, or a tablet.
No more struggling with clunky website builders or complicated coding, our website editor streamlines the process and makes it a breeze to create a page that looks and feels exactly the way you want it to.
But don't just take our word for it - explore the home page editor in b2match next yourself and start creating a stunning event page that truly represents your brand and engages your audience like never before!
Inspired? Get in Touch and Let Us Help Make Your Next Event a Success.
Book a Free Demo