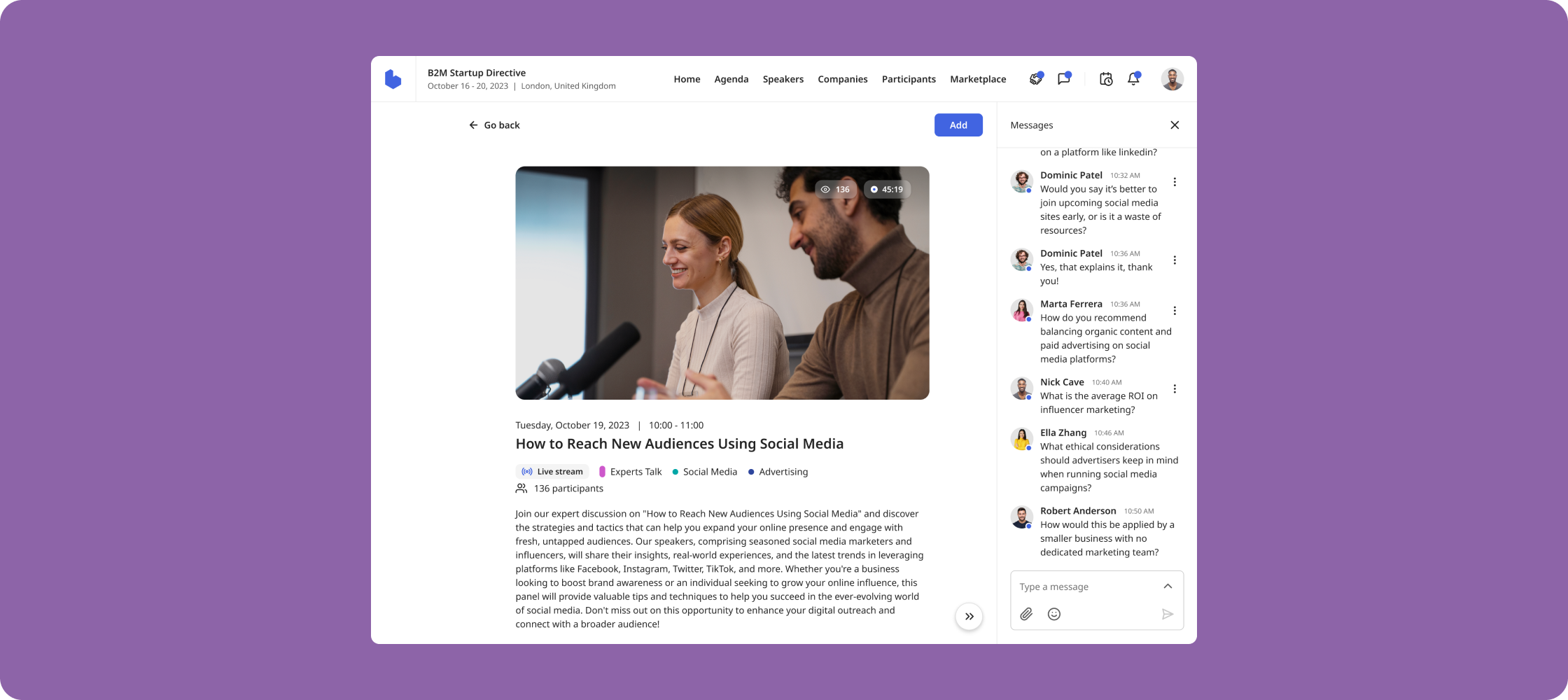 Product Update
Get Ready to Chat at Every Session with b2match's Latest Update
Oct 10, 20232 min read
We are very happy to introduce our newest dynamic addition to the event agenda that opens up new possibilities for interaction and engagement - Session Chat. Let's explore the practical aspects of this update and how it can make your networking events more engaging.
Changing The Event Networking Landscape
Previously, participants could chat only during live stages, or in private conversations. This limitation posed challenges for event organizers looking to foster interaction across various sessions and activities. However, with the introduction of Session Chat, the networking game has changed.
Introducing Session Chat
Session Chat empowers event organizers by offering the flexibility to enable chat functionality for each individual session within the event agenda. This functionality isn't restricted to online events; it extends to onsite sessions as well, ensuring that attendees can connect, collaborate and discuss topics specific to each session effortlessly.
Choosing Your Chat Option
We have considered the diverse needs of our event organizers and this is why organizers can choose between two chat options:
1. Integrated Chat (Basic): This option offers a straightforward chat experience, allowing attendees to exchange messages and insights related to the session. It's an excellent choice for those seeking a streamlined communication channel.
2. Third-Party Tools: For those looking to elevate their event's chat engagement, b2match allows integration with third-party tools like Slido, Mentimeter, and others. These tools bring a wide range of exciting functions to the table like live polls, Q&A sessions and other, enhancing the overall event experience.
Enabling Session Chat
Getting started with Session Chat is a breeze. Event organizers can enable it by following these simple steps:
Access the Organizer's Tool.
Click on the "Agenda" on the left sidebar.
Select the specific session for which you want to enable Session Chat.
Under the "Engagement" tab in the Session sidebar, you'll find a convenient toggle switch to activate the chat function.
In conclusion, b2match's new Session Chat update is a practical enhancement for event networking. Whether you prefer a basic chat experience or want to explore the features of third-party tools, this update offers a versatile solution to engage and connect (with) your event attendees effectively.
Say goodbye to limited interactions and make your networking events more engaging with Session Chat!
Inspired? Get in Touch and Let Us Help Make Your Next Event a Success.
Contact Sales