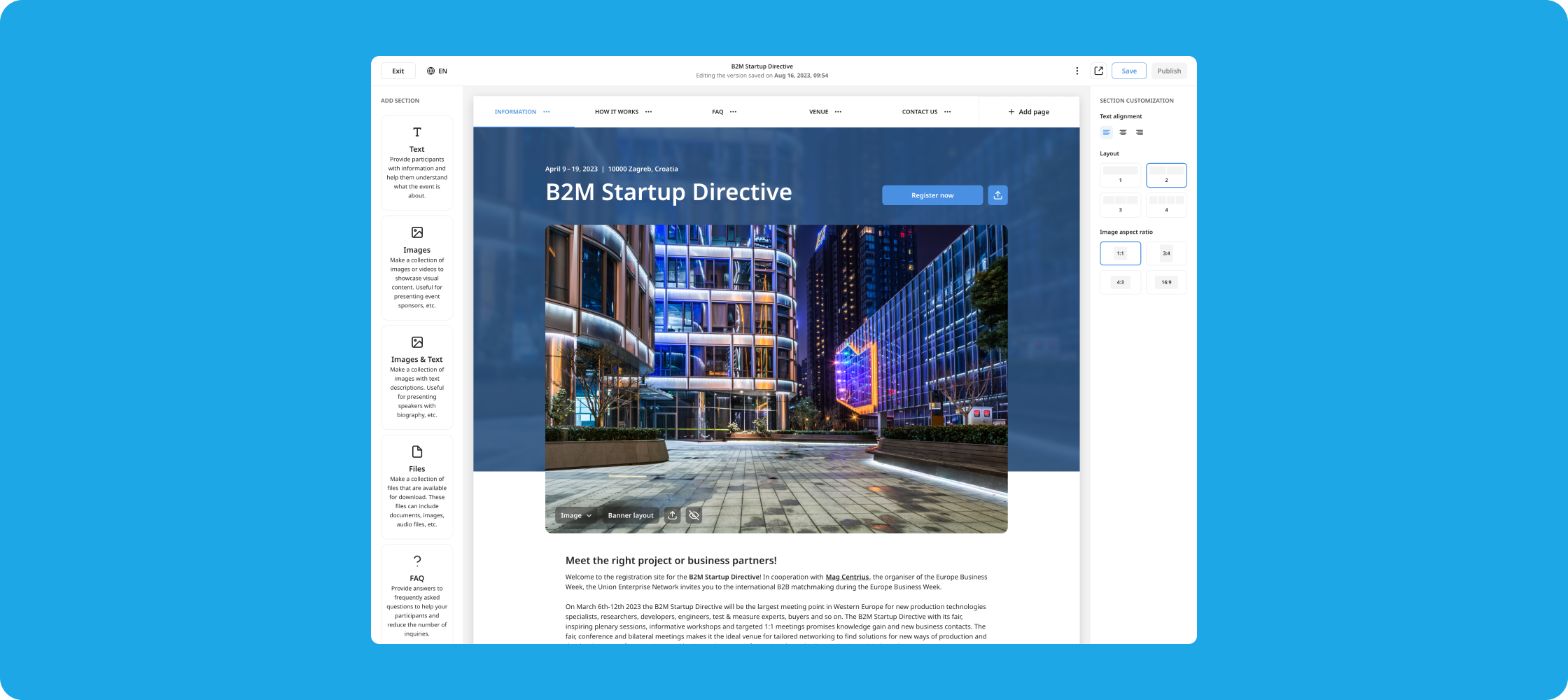 Product Update
Experience Next Level of Event Website Creation with our Redesigned Home Page Editor
Aug 23, 20232 min read
After the release of b2match next - our rebuilt and improved event networking software, your valuable feedback has fueled another transformative upgrade, this time to our Home Page Editor.
In this article, we're excited to reveal how we've improved our Home Page Editor based on your input, bringing a new era of event website creation.
Intuitive event website creation
With its sleek and intuitive interface, the new Home Page Editor empowers you with greater control over the look and feel of your event website, ensuring you create the perfect first impression for your attendees.
Say goodbye to guesswork! Now, you have a real-time preview of your website directly within the Home Page Editor. Witness your vision come to life as you work, and ensure every detail is just right. The new Home Page Editor opens in full screen mode, leaving no room for distractions, so you can focus solely on designing a striking event website.
We've also reimagined how you access and manage your pages. Create various pages like the FAQ, list of speakers, or any other content, on your event's home page where they will be neatly arranged at the top of the Home Page Editor, mirroring your event website's layout. Enjoy effortless navigation and see your pages exactly as your participants will.
More customization to match your brand's visual identity
Captivate your audience with our brand-new website banner layouts, designed to make your event website truly stand out from the crowd. Pick one of five different banner layouts and let your creativity shine as you choose the perfect visual to leave a lasting impression.
Simple and optimized editing
We believe simplicity is key to a user-friendly experience. That's why we've made significant changes to the sections, streamlining the process of conveying event information. The left sidebar of the Home Page Editor now allows you to easily add and customize sections as needed, so you can effectively reveal all the essential details.
Say goodbye to the Gallery section and welcome the Images and Youtube sections. Add stunning images in just one click, and enjoy greater editing options, such as image aspect ratios of 1:1, 3:4, 4:3, and 16:9, allowing you to create an eye-catching image gallery. And with the new Youtube section, incorporating engaging video content is as simple as pasting a link.
We haven't forgotten the small details that make a big impact. The participants per country section now features the "Show others" option, giving you deeper insights into participant demographics from various countries, not just the highest participant count countries.
No matter the screen size, our responsive right sidebar adapts seamlessly to your workspace, providing an optimized editing experience that suits your needs. Customize each section to your heart's content, knowing your creativity is unbound.
Take the reins of creativity and shape an event website that represents your brand and captivates your audience. With our improved Home Page Editor, this is now easier than ever before! So, what's stopping you? Unleash your imagination, try it out now, and let your event shine like never before!
Inspired? Get in Touch and Let Us Help Make Your Next Event a Success.
Contact Sales