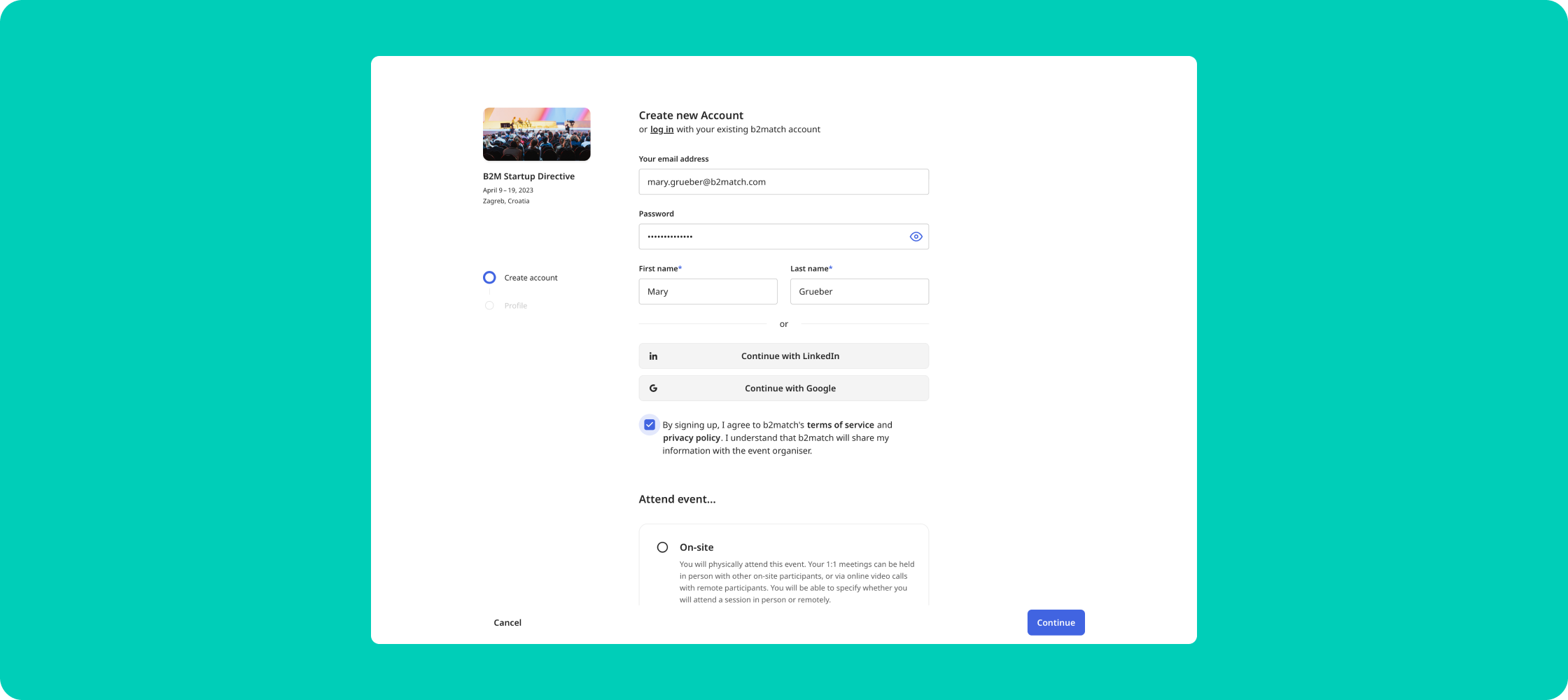 Announcement
Event Registration in b2match next: Making Sign-Up Simple and Customizable
Apr 21, 20232 min read
We are excited to announce our new and improved event registration process, designed to simplify and optimize sign-up on any event happening on our event networking platform.
Once your participants create their b2match account for the first time, they will be able to register with the same profile to any future event with just a few clicks. With this new system, participants no longer have to repeatedly fill out their profile information as the fields will be pre-filled in for them during registration.
We even save all of their marketplace opportunities, so they can simply share them on various events they are participating in, without losing data. This saves time and creates a more efficient user experience.
To create more attractive and eye-catching participant profiles, we have added several new fields to the "Create Your Profile" section. Besides adding the usual participant information like their profile picture, occupation, organization name and other, participants can now also write a short pitch and/or biography about themselves, and add tags that show their specific skills and interests.
Flexible and efficient
With b2match, you are able to create specific participant types to efficiently categorize and organize your participants.
In addition, you can create event specific questions, categorize them into groups, and set up specific questions for certain participant types. This allows you to fully customize the event registration to fit your needs. You can even make questions mandatory or optional, and choose between single and multiple-choice questions, text input, file upload, and more.
To sum up, here are the benefits of the new event registration process in b2match next:
Enhanced user experience through a user-friendly interface with a more intuitive registration process
Faster and more engaging
Customizable event registration tailored to fit your event needs
Efficient organization and categorization of participants during registration
Removal of agenda from the registration increasing the focus on profile creation
Simplified profile creation by saving data on a single participant account for various events on the platform
Addition of a pitch and biography section for participants to showcase themselves
Ability to add social media and website links to profiles
Our new registration process makes it easier for participants to sign up for your events while giving you greater control and flexibility.
Join the b2match next waitlist to be among the first to experience the next generation of event networking software.
Inspired? Get in Touch and Let Us Help Make Your Next Event a Success.
Book a Free Demo