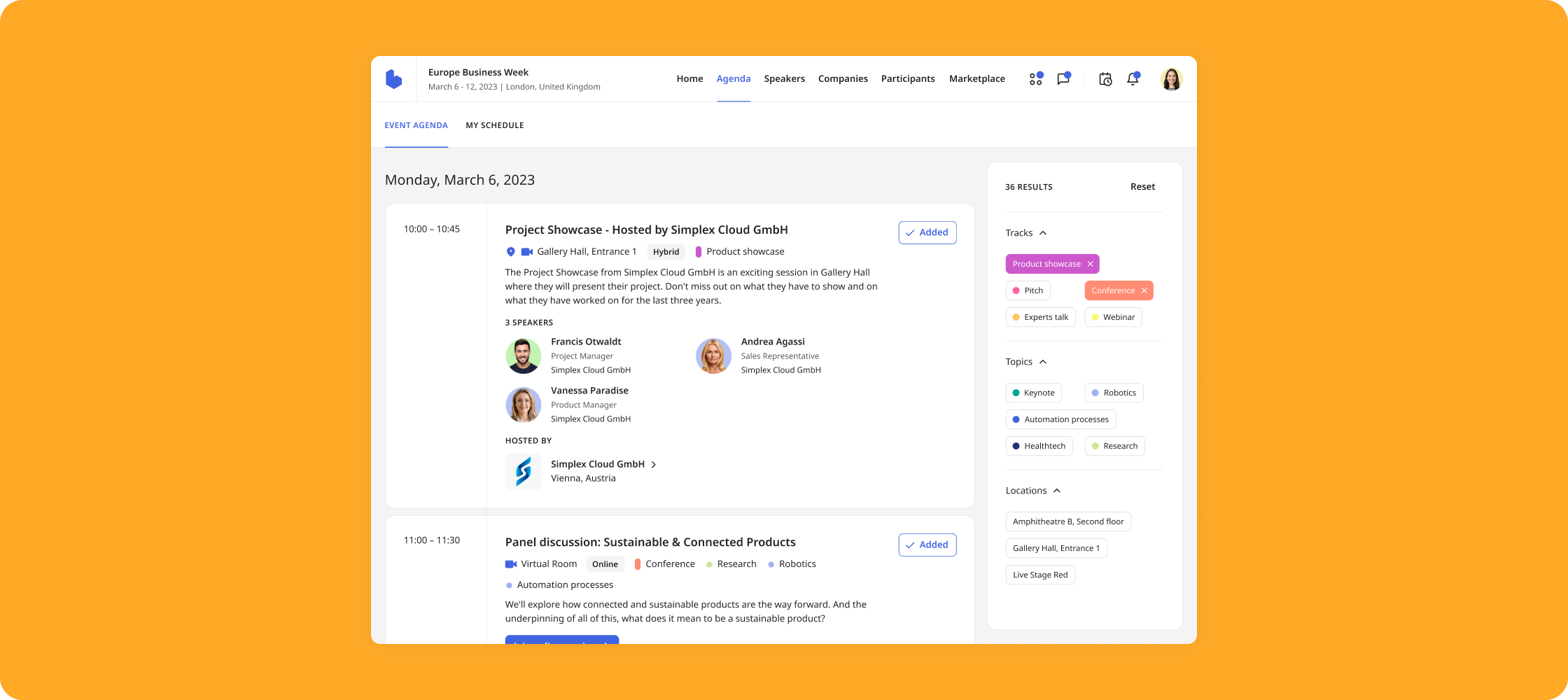 Announcement
b2match next: Unveiling the New Event Agenda to Make Event Planning a Breeze
Apr 28, 20233 min read
By introducing the b2match next event agenda, organizing events has become smoother for you to oversee and more productive by giving you an overview of your entire event in one glance.
The new agenda is a customizable and essential part of the Organizer's Tool that provides a comprehensive view of all the sessions of your event. It is easy to configure and edit session formats in our upgraded event agenda.
Choosing a session format is a crucial step when setting up a session. There are four different session formats: in-person, live stream, pre-recorded, and video conferencing, and each format provides detailed information about how the session will be conducted.
The Agenda gives you the ability to add important general information to sessions as well as engaging content such as tracks, locations, topics, speakers, exhibitors and participants.
Each Track and Topic are distinguished by a unique color to group sessions, making it easier for attendees to identify which sessions align with their interests.
The Locations tab in the agenda displays the exact session location, complete with a map to help participants find their way. The Live Streams tab lists all the live streams that will be utilized during sessions, making the live stream setup as streamlined as possible.
One of the key benefits of the agenda is the ability to assign speakers to sessions with ease. By simply typing in the name of the speaker in the designated field or selecting them from the drop-down menu, you can quickly add multiple speakers to a session if needed. This feature also allows you to adapt the schedule on the fly.
In addition to that, you have the ability to reorder speakers within a session. This ensures that the speakers are displayed in the order chosen by you, both within the session and in the event application.
Along with the speaker feature, b2match next has also introduced a new exhibitor feature to add additional visibility and increased brand awareness to participating organizations.
This new feature allows organizers to assign exhibitors to sessions they are hosting or sponsoring by simply typing in the exhibitor's name or selecting them from the drop-down menu. Once an exhibitor or sponsor is assigned to a session, their name will appear under the "Hosted by" section on the Session card in the event's agenda.
Engage your participants even more by encouraging them to create their own customized schedule, with an intuitive one-click button next to the session. You can generate more registrations by highlighting keynote speakers from your industry and providing engaging and rich content.
In b2match next, participants can personalize their experience by adding sessions to their own schedule that is printable in PDF form, while you gain valuable insights into their interests and preferences, making for a more targeted and successful event.
Overall, our new event Agenda is a vital tool that makes organizing events less stressful and better than ever before. The comprehensive view of all event sessions, creating, editing, and configuring rich content in the agenda has never been easier as we continue to provide innovative solutions for you, making your job simpler, and more efficient.
As we approach the date of the release, there is still a bit of time left for you to join the waitlist and be among the first to experience what b2match next brings to the future of networking events.
Inspired? Get in Touch and Let Us Help Make Your Next Event a Success.
Book a Free Demo